Whitefish Winter Fun for Non-Skiers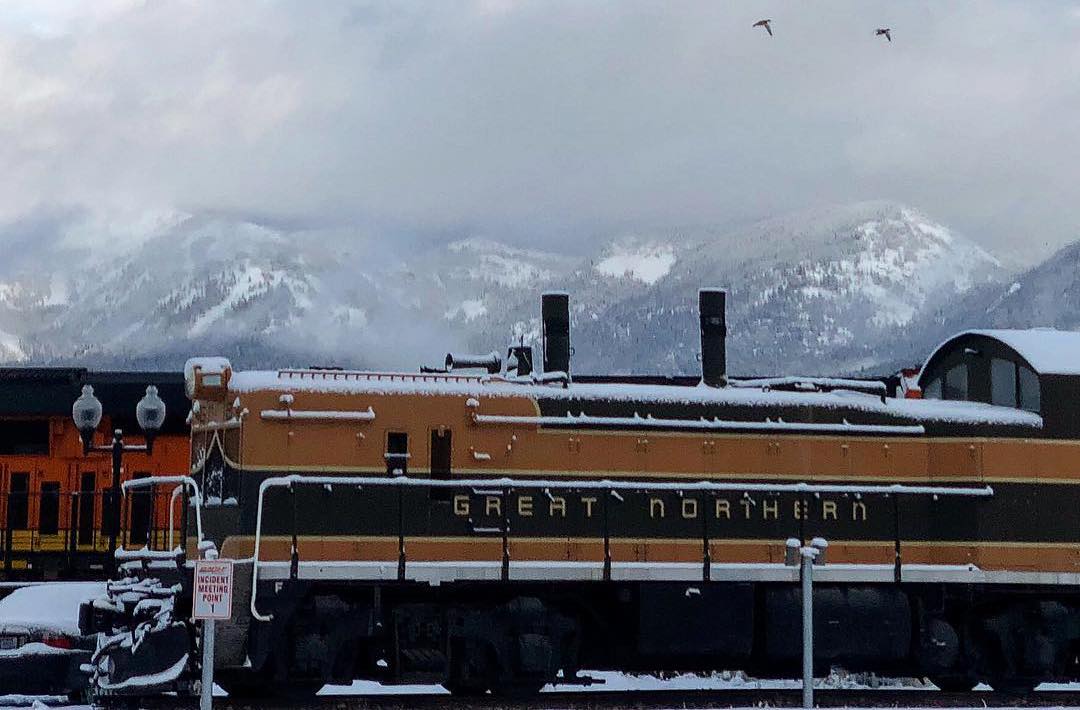 One of the challenges of planning a ski vacation is how to accommodate & entertain the non-skiers in the group. While curling up with a good book in front of the fire in our Great Room is always a welcome option, there are plenty of non-skiing activities to entertain those who don't ski or board or those who want to take a day off from the mountain.
If you want to still enjoy a winter activity there are plenty of recreation options to get your heart pumping: snow shoeing on the nearby Whitefish Trail, ice skating at the Stumptown Ice Den (skate rentals available), snowmobiling and dog sledding with Dog Sled Adventures in nearby Olney,  just to name a few. If you still want to strap on skis, there are several Nordic options as well. Cross-country ski rentals and groomed trails await you at the Whitefish Lake Golf Course (they even have a lighted trail for night skiing.) For a more rustic cross country ski option try the Stillwater Nordic Center offering over 20 km of groomed trails. Area sporting good stores offer rental options for snowshoes, skis, etc. And, don't forget, Glacier National Park is open all year round and the quiet solitude is a wonderful way to see this beautiful jewel from a whole new perspective.
Another fun way to spend the day is exploring the town of Whitefish and you don't even need a car! The same shuttle system that takes skiers up the the mountain, can take you to downtown Whitefish and the shuttle stop is just a stone's throw from our front door. We recommend making your first stop in town the Whitefish Visitor's Center located at the offices of the Whitefish Chamber of Commerce [307 Spokane Ave.] The friendly folks there will provide you with all kinds of good information on activities, festivals, special events, restaurants, galleries, and museums. Some highlights we recommend:
Stumptown Historical Museum at the Whitefish Train Depot. Learn about the history of Whitefish (yes, you too can find out why Whitefish's nickname is "Stumptown") and for train enthusiasts it's a "must see";
*FREE* beer tasting at the Great Northern Brewery;

Whitefish boasts over 14 Art Galleries/Shops – perfect places to find that unique one-of-a-kind souvenirs of your trip to Montana;

If you have kids in tow or you want to torch some calories in heated comfort, head over to the The Wave, a state of the art fitness facility that has a lap pool and a kid's pool, a place to drop off the little ones while you workout, a variety of cardio & weight training equipment, and classes including yoga, Zumba, spin & step;

Stop for lunch at one of many local restaurants offering menu items for all tastes – from the carnivore to the staunch vegan and everything in-between. Ask us for our favorites, [you might get a different answer from each one of our staff members, but they'll all be good!];

Bowling at the Pin 'n Cue;
Paint your own pottery at the Stumptown Art Studio;
Catch a movie matinee at the Mountain Cinema 4-Plex, located at the Mountain Mall;

Support our local economy by shopping at one of many of the shops offering a wide range of products and souvenirs from artisanal olive oils to t-shirts to knitting & quilt shops to pottery & books – (yes, we still have a fantastic brick-n-mortar bookstore!);

Take a coffee roasting tour at Montana Coffee Traders or see how our Hidden Moose Lodge mugs are made by taking a tour at Whitefish Pottery located just 5 miles from Whitefish.
So as you can see, Whitefish has many options for both the skier and non-skier alike – we are happy to help you make your plans for an off-the-mountain-day.
Hiking in Glacier National Park is not only advised due to the hunting season, but is more pleasurable with visitor numbers down. Instead of encountering hundreds on the Avalanche Lake trail, there may only be a couple of dozen hikers on a busy day. Cycling on roads within Glacier also becomes more feasible with less vehicle traffic on the well maintained roads of GNP. Fishing is still great on various lakes and rivers, as well as paddling. The cool crisp air is refreshing and results in rosy cheeks on those partaking in outdoor activities.
Early fall brings both black and grizzly bears in town to forage among fruit bearing trees, bird feeders, or improperly stored trash. Anything that can provide much needed calories before entering hibernation is fair game. Often an overnight dusting of snow remains, making it easier to see animal tracks and sign. Turkey and deer numbers are at an all time high in town. With hunters prowling in the woods, these animals and others retreat to town for safety. Due to fewer travelers in the area, accommodation rates drop and many establishments run specials, making it a very affordable time to visit. With low visitor numbers, an abundance of activities, and great prices, fall is by far one of the best times to visit Northwest Montana.