Their story began as young kids; Kim's began in Oregon on the slopes of Mt Hood, while Kent's started at Winter Park and later in Vail, Colorado. Their passions for outdoor pursuits lead them to College at Western State College in Gunnison, Colorado with nearby Mt Crested Butte as a big draw. Kim was awarded an athletic scholarship in ski racing and competed for 4 years nationally as an NCAA athlete. At the same time, Kent played soccer on the college team and also was one of the coaches of the women's team that Kim played on. This is where we met.
Over 40 years later they are still enjoying outdoor pursuits and one another. Upon graduating from Western State Kim spent a year traveling with Up with People and Kent earned another degree in Hotel and Restaurant Management from the University of Denver. Upon graduation Kent was recruited by Westin Hotels and Resorts, spending over 10 years honing his skills with one of the industry's leading hotel companies. Together, Kim and Kent found themselves moving about the country with stints in Los Angeles, Cincinnati, Houston and Seattle. When corporate mold and a potential transfer to Detroit came about, they knew it was time to decide for themselves where their next move should be. Both agreed that finding a ski town/mountain community was at the top of their list.  Also at the top of the list was they wanted to own and operate a  lodging business. Having skied all over the west they were well acquainted with all the great resort towns. They knew what they were looking for.
Kim & Kent found it in Whitefish! While the natural beauty is spectacular, the community is equally as impressive. Glacier National Park and Whitefish Mountain Resort are world class, as is the town of Whitefish with its restaurants, shopping, nightlife. However, it's the friendly small town feel that sets us apart.
They sold their home in Seattle, packed their bags and moved to Whitefish in 1991. They then began the quest to design, build and open their own lodging property. It was their intention to build a lodge with a rugged, rustic feel, yet one with all the amenities of an upscale hotel. Kim and Kent also wanted to create a casual, warm feeling atmosphere where guests would feel at home. They opened their doors in 1995 and still pinch themselves that their dreams came true.
A Message from Kim & Kent:
What has meant the most to us, are the relationships we have built. Nearly 40% of our guests come back time and time again. We hope you select Whitefish as your destination. Once you have settled on Whitefish we hope you will include the Hidden Moose Lodge as your home away from home. You won't be disappointed. We look forward to welcoming you and sharing all the special places our neck of the woods has to offer!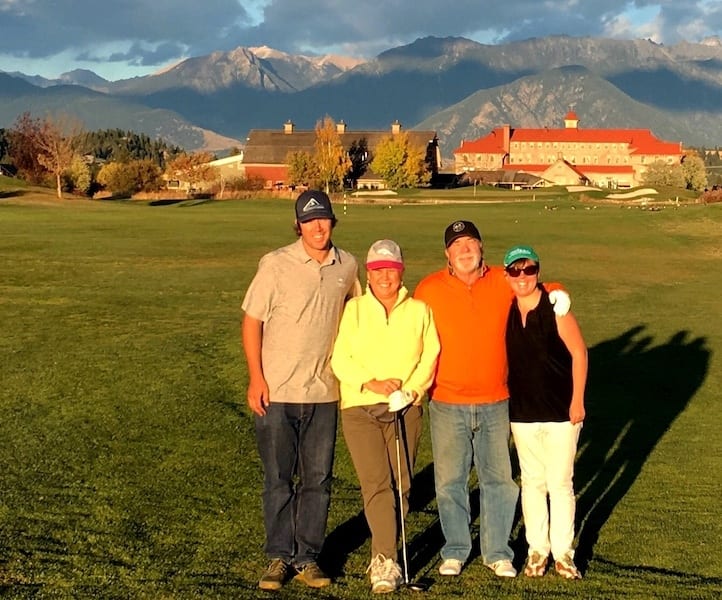 "Loved this place"
Loved this place – clean, comfortable and very nice decor. The afternoon "beverages" were a nice treat and breakfast was excellent. The staff was very friendly and accommodating – even gave us a ride to town so we didn't have to wait for the snow bus. Definitely will return. – S Vern